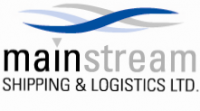 HEAD OFFICE
Mainstream Shipping & Logistics
House #288 (3rd Fl), Road #19/C
New Dohs, Mohakhali
Dhaka
, 1206,
Bangladesh
Phone : +880 29859526
Fax : +880 28711715
Email :
***@mainstream-bd.com
Contact Form
Mainstream
Mainstream established in 2010 is a fast growing organization in the Bangladesh logistics field with a vastly experienced team to handle Sea/Air freight through major sea/air ports and via surface across Bangladesh. Mainstream has specialist teams to handle DDP/DDU/Door delivery & pick/Ex-works movement & warehouse/warehouse movement & Project shipments. Offering Contract Logistics to valued client both in Bangladesh & abroad. Also specialist in handling Textile movements by Sea/Air.
Branches
Service Offered:
- Customs Brokerage
- Air Freight Forwarding
- Railroad & Intermodal
- Trucking - Local
- Sea Freight Forwarding
- Trucking - Long Distance/Brokerage
- Freight Forwarding - Domestic/Land
- LCL Groupage/Consolidation
- Project/Heavy Lift Cargo

Commodity Offered:
- Household/Relocation/Personal Effects
- Pharmaceutical
- Boat Shipping
- Trade Show, Events & Entertainment
- High Value Cargo
- Automotive Parts
- Textiles, Garments & GOH
- Motor Vehicles
- Dangerous Goods/Hazmat
- Cold Chain/Perishables
- Ships Spares

PRIMARY CONTACT
Keshab Sen
Managing Director
Contact
OWNER CONTACT
Keshab Sen
Managing Director
Contact
SALES CONTACT
Jadab Sen
Head of Sales
Contact